Recollections on what my Granddaddy used to say...
By now, many of you have heard the tale of Tyron Smith, the Dallas Cowboys first round draft pick in the 2011 NFL draft. Smith, a 6'5 310 pound lineman has more on his mind than protecting Tony Romo these days; he's trying to protect his ones. Since being drafted and signing a four year $12 million deal last summer, he's had to make the adjustment to the fame and fortune that comes with the NFL lifestyle, and having to escape the clutches of family members who wish to share in his fortune. Boys grow up with dreams of becoming a professional athlete with the goal of buying their mother a big house, but in the case of Smith's mother Frankie Pinkney, she seemingly wants a little more than a house and the satisfaction of knowing her son's hard work and her family's sacrifice paid off.
Cut the check!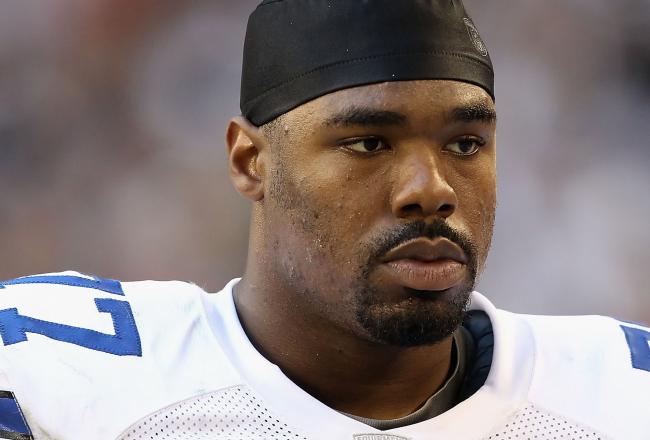 Tyron Smith
Smith's lawyer John Schorsch says the lineman broke his family off after he signed his deal, but mom says he made promises to give additional money and has defaulted on those assurances. There have been incidents dating back to last summer with his family showing up at the Cowboys' practice facility and the recent 911 call against his sisters who showed up at the house as agents of mom and stepdad to harass the seemingly gentle giant. Furthermore, he has a restraining order against his parents that extends to his siblings (three sisters and two brothers), but has seemingly been violated because this family wants their piece of his pie.
The shame of it all is this predatory mentality is not reserved for millionaires; many of us have friends, family members or may even be the repeated target of family members that just can't seem to get their finances in order. There's a myriad of reasons our families struggle and even quite a few solutions to begin the work on their struggles, but nothing works like calling on so & so to ask for a few dollars, because they have it. What makes you think I have it? Like my homie told me yesterday, his wife likes nice things and so does mine, that is reason enough for someone not to call my house asking for anything. Besides that, what about my mortgage, car note, light bill and the food in my freezer, my day-to-day expenses don't matter to you? If you're constantly in my pocket, could I ask you for some help when I'm going up the rough side of the mountain? However, people don't see that far ahead, they see Facebook pictures of you out having a good time, know you have a decent paying job and a two-income household, so there's got to be extra for them right?
Well ain't it?!?
Emphatically no! Many of us work ourselves to the bone for the opportunity to go on vacations or make sure our wives have new shoes; nothing about my waking up at the crack of dawn was done by you, so why should you cash in when my direct deposit goes through? It may be hard to fathom, but being family is not a sense of entitlement, especially when a concerted effort at improvement on your behalf is not being seen. The reality is, calling your brother to put a little something on your light bill or because your cupboard is bare, doesn't affect the root of the condition so we may be right back in this place on the 20th of each subsequent month.
There are folks who don't want their conditions to improve, yet want to reap the benefit of your hard work and act as if you owe them something because you have one or two more zeros in your bank account. They prey on the fact that you're a "good person" or try to guilt you into your repeated assistance. But here's the kicker, oftentimes they have the most asinine requests, like, "Can I borrow a few dollars to get my cable cut on?" Seriously, you're waist deep in the struggle and you're trying to keep the cable on? Do you need internet access to apply for a better job? Oh, you can't do that, because you don't have a computer.
(sidebar: Some of yall have $800 cell phones and no computer at home?)
We've reached a valley in social illiteracy so deep that the correlation between survival and luxury has been blurred beyond recognition, so calls to help with rent or even food have been replaced with keeping T-Mobile off your ass. I guess the thought is that someone will step in if you need a place to stay or a bite to eat, but you can't be disconnected from the people who don't hold you down, so let me call my cousin. Social media has frayed the edges of relationships to the point that many categorize connections in "likes", forgetting the intimacy that goes along with a meaningful bond…until there's a need.
Whether we're talking millions or a couple of twenties, you can't count what someone else's PIN number has access to and consistently chomp at their bit for a taste when you're mismanaging what you have or haven't put forth an effort to get on your own. Life happens in real time and has no sympathy for your suppositions or imaginary debts, so you may need to get up, get out and get something, because while you're trying to get over, many of us are having a hard enough time just getting by.